Arioto's Chi Karate teaches you more than just self defense.
At Arioto's Chi Karate we teach you about energy and how to move it.
We will teach you about the center and how to use your center.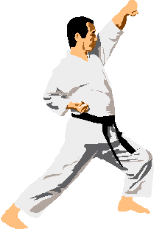 Rich Arioto has been in the martial arts for over 30 years. He has created a new style of martial arts that works with energy and moving energy. This style of karate will even the odds when a small person (115lbs) encounters a large person (200lbs). The smaller person will be able to direct and control the larger person, not only with their own energy, but with the energy of the larger person, using the larger person's energy against them. This technique can be learned by many people in just a few lessons.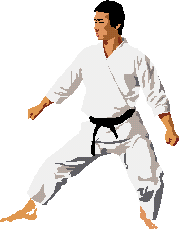 At Arioto's Chi Karate you will also learn about chakras, key points, and pressure points. You will learn...
TO CENTER YOURSELF
TO USE ANOTHER PERSON'S CENTER TO YOUR ADVANTAGE
FOCUS
TO PROJECT ENERGY WITHOUT A FIGHT
CONFIDENCE
VISUALIZATION
BREATHING TECHNIQUES
POWER
SELF CONTROL
SELF RESPECT
TO DEVELOP YOUR MIND
TO GROUND YOURSELF
TO SEE, HEAR AND FEEL BEYOND YOUR NORM
TO BE CREATIVE
TO RELEASE TENSION
TO BE CALM
THE CHAKRAS
HIGHER ENERGY
EXPANSION
CONCENTRATION
FLOW
BALANCE
YIN & YANG
TO MEDITATE
NON-ATTACHMENT